optic
OPTIC 8+ Dimmable COB LED Grow Light 500W (UV/IR) 3500k COBs - 120 Degree Lenses (5x5) ( for ALL )
Regular price
45,881.00 THB
Sale price
53,864.13 THB
Unit price
per
Tax included.
Shipping
calculated at checkout.
          Patented Optic 8+ 500 watt dimmable COB LED Grow Light has risen to the TOP of the LED Grow Light Industry purely by proving itself as 1 of the highest Yielding Grow Lights on the market. Optic LED has now seamlessly integrated eight of CREE's highest yielding COB's (XLAMP CXB3590) with industry-leading glass projection lenses to give you unprecedented light spread and canopy penetration. The combination of CREE COB's outfitted with ultra-high-quality glass lens and the Osram Far Red Bloom enhancer array will deliver mind-blowing results. Upgrading to Optic 8+ you can expect significant increases in Canopy Depth, flowering sites, bud density, the coloring of your flowers, resin production and terpene profiles for that amazing quality you're looking for. Proven yields up to 2.67 pounds per harvest which is an incredible 2.4 grams per watt under a beautiful white light that you and your plants can both enjoy. 

New!

 

Lifetime Warranty

 

on Optic 8+ (see warranty page for details)
Max Power: 500 watts
HID equivalent: 1000 watt DE HPS
LEDs: USA MADE CREE COBs & OSRAM SMD Bloom Enhancer Array
8 x CREE CXB3590 COB LEDs

6 x 3500k Daylight White CXB3590 COBs

2 x 5000k Cool White CXB3590 COBs 

Each COB is 137w max & under driven @50w continuous

32 x 3-watt OSRAM ultra-efficient LEDs 
COBs: USA Made CREE XLAMP CXB3590
Optics: COBS & 3W LEDs have a 90-degree lens standard with the option to choose a 120-degree lens for a 5'x5' coverage area. Glass Projection Lens Directs light downwards, magnifies par and increases canopy penetration by up to 200%. 
Drivers:  3 commercial grade Meanwell Drivers (Industry Best)
Spectrum: Full Spectrum + UV & IR
Dimmable Optic 8+ gives you the best possible Spectrum at Every Phase of Growing from VEG through late flower with more Red Spectrum being added the later you get into flower. Our owner's manual will give you recommended baseline Dimmer settings for each week of your grow to make getting amazing results with your Optic 8+ easy.
Spectrum for VEG - VEG Dimmer @100% & Bloom Dimmer @10% - only the COBS on. VEG Dimmer Controls the two 5000k COBs which gives you more blue light and two 3500k COBs.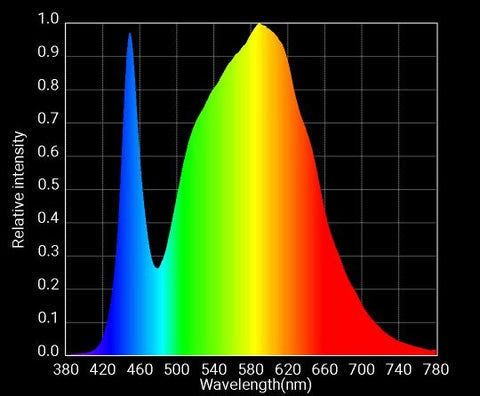 Spectrum of COBS only @ Full Power - Veg Dimmer@100%, Bloom Dimmer@100% & Bloom Enhancers Off. (Used in VEG & Flower)
Spectrum of Far Red Bloom Enhancers that include Ultra Violet & Infrared
Spectrum on OPTIC 8+ @Full Power - All 3 Dimmers @100%
PAR Efficacy: 
4' x 4' Area: 1.2m x 1.2m = 1.44 Square Meters
833.70 ppfd x 1.44 Square meters (4x4 area)= 1,200.52
1,200.52 divided by 500 watts = 2.40 PAR Efficacy / (ppf/w)
PPFD for 4x4 area @ 18" (120 degree Lens): 833.70 
(Apogee MQ-500 Used for PAR Meter Testing in 4x4 Grow Tent May-2019)
PPFD for 4x4 area @24" (90 degree Lens) : 678.46
(Apogee MQ-500 Used for PAR Meter Testing in 4x4 Grow Tent - May 2019)
Recommended Coverage area & hanging height :
Veg: 6' x 6' @30" 

Flower: 4' x 4' @18"- 24" (1.2m x 1.2m)

or 5' x 5' (120 degree Lens) (1.5m x 1.5m)
Recommended hanging height:
90 degree LENS
Veg: 24"-36"          (.6m - .9m)

Flower: 18"-24"     (.5m - .6m)
120 degree LENS for 4x4
Veg: 24"-30"          (.6m - .75m)

Flower: 16"-20"     (.4m - .5m)
120 degree LENS for 5x5
Veg: 24"-30"          (.6m - .75m)

Flower: 18"-24"     (.4m - .5m)
Light Controls:
Dimmability: 3 Way Dimmability
VEG Dimmer: Controls 4 COBs: Two of the 5000k cool white COBs & Two 3500k daylight white COBs.
BLOOM Dimmer: 4 COBs: Controls four daylight white 3500k COBs.
BLOOM ENHANCER Dimmer: 32 pcs 3w diodes, Controls UV & Osram secondary led array.
Switches:
Switch#1: COBs ON/OFF (Turns all 8 COBs on)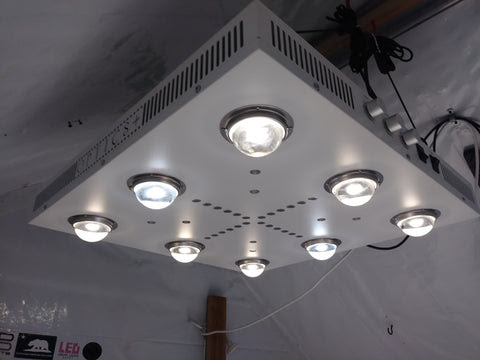 Switch#2: Bloom Enhancer ON/OFF
Switch #1 & Switch#2: ON (Full Power)
Optic 8+ Specifications:
Proven Yield: Up to 2.67lbs / 42.72 ounces / 1,196 grams
Grams Per watt: Up to 2.4
Thermal management: 9 x cooling fans, slotted housing & overbuilt Aluminum fin heat-sinks.
Fixture Dimensions: 27" L x 27" W x 4" H
PPF/Watt / PAR Efficacy: : 2.40 umol/J

PPFD: 833.70 (@18" Hang Height)
Input Voltage
: 100-265 VAC (240 volt power cords
sold separately
)
Input Current: 5-1.9 Amps
Max Power Draw: 500 watts
Finish: Matte White
Fixture Weight: 40 Pounds
Shipping Weight: 48 Pounds
Product includes: 120v power cord, 4 Rope Ratchet Hangers & LED Fixture. (120v-240v power cords available, we automatically ship the correct power cord for your country)
Optic LED Warranty: Lifetime Warranty (10 years)
Life Expectancy: 10+ Years 
Packaging: Plain brown discrete packaging with no label
Shipping: Free shipping in Canad
Recommended for:
Grow tents(4x4) (5x5) (8x8) (10x10) 
Grow rooms (All Sizes)
Full-cycle growing from seedling to flower
Soil, hydroponic, aeroponic, or aquaponic systems
Optic 8+ USA Patent Pending
Optic 8+ Commercial Grow @Hicksford Farms in Oklahoma
Optic 8+ - 2.67lbs Harvest Video
 Optic 8+ Harvest Video 3 of 3- Baseball Bat Colas
 Optic 8+ Harvest Video 2 of 3
Optic 8+ Harvest Video (1 of 3) - WestCoast Cannabis
 Optic 8+ Pound Game Grow Seires - wk9 flower - (WCC)
Optic 8+ Unboxing & Review by Darkarts Organics
 Optic 8+ Unboxing & Review (EnvyMyClosetGrow)
---